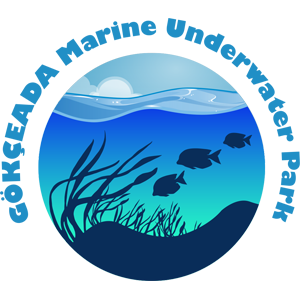 The Underwater Trail has established in the Gökçeada Underwater Marine Park. Are you ready to discover the marine animals with the guidance of a park ranger in the first Underwater Trail of Turkey?
GÖKÇEADA UNDERWATER MARINE PARK
Turkish Marine Researches Foundation (TUDAV) was established in our country in 1997 to conduct researches on marine sciences, to protect the sea life and to continue the sea culture to the next generations.
Gökçeada Underwater Marine Park was established in 1999 between Yıldız Bay and Kuzulimanı with the attempts of TUDAV. With the 21.02.1999 date and 23618 official journal announcement, in the boundaries of the underwater marine park, all fishing and tourism activities are forbidden. Afterwards with the 2012/65 noticification, Park boundaries extended from Yıldız Bay to Çiftlik Bay. Park area possess 1.5 mile coastal zone from Yıldız Bay to Çiftlik Bay. The area is protected from to coast to the 200 mt off the sea. Thus the underwater caves, the habitats for the Mediterranean Monk Seal and many other sea animals were taken under protection with this decision.
According to the researches in the park area, the fish species and their numbers were increased and the lobster species that are not seen before were started to be seen and also dolphins and the Mediterranean Monk seals were detected visiting the shore again.
The applications conducted in the Gökçeada Underwater Marine Park were selected as the best nature conservation applications in 2002 in the World Environment Summit that held in Johannesburg.
SPECIAL PROTECTED AREAS
In the recent years many countries establish underwater parks and marine reserves due to the marine pollution and the declines of the marine living organisms.
The objective is to prevent the instinctions of the marine animals in these conservation areas and to raise awareness of people about the marine environment, and also to conduct scientific researches.
MARINE PARKS
A marine Park is established for various reasons such as to protect the specific marine site, to guarantee the habitats which are important for the endangered and endemic species, to show the underwater beauty to the public, to increase the public awareness on the marine conservation issue, to conduct marine scientific studies.
During the marine park selection, the unspoiled areas with the rich biodiversity are preferred.
There are countless number of marine parks all around the world and this areas especially provide to protect the endangered species. Park sites are also used in an educational manner for the primary and secoundry schools as well as various factors like diving and environment education.
There hasn't got any marine park in Turkey which has a coastline of 8353 km. Marine parks are also raise the tourism incomes. Moreover it is a way to educate the public. Its targeted to raise the protected coastal areas from % 0.2 to % 10 in 2010. Furthermore many countries conduct special programs for the marine parks.